DER ERSTE MOTO TRIPLE BACKFLIP!
The "ROAD TO THE UNTHINKABLE: The Quest for the Motorcycle Triple Backflip" ist ein neuer Film, der Travis Pastrana und Josh Sheehans Weg hin zu dem verrücktesten Motocross Trick der Weltgeschichte erzählt. Der Film ist ab sofort auch in Europa als Download und VOD auf allen bekannten Plattformen erhältlich. Hier könnt Ihr schon mal den verrückten Trailer auschecken!
Ähnliche Artikel
Als erster Mensch versucht Josh Sheehan einen dreifachen Backflip mit einem ...
Pure Action und Emotionen – das NIGHT of the JUMPs Aftermovie 2015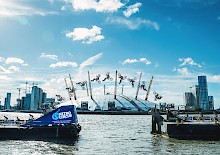 Travis Pastrana hat es tatsächlich gepackt und ist diese Woche von Boot zu ...