NIGHT OF THE JUMPS 2016
Die FIM Freestyle MX World Championship Saison 2016 startete Ende Januar mit der NIGHT of the JUMPs in Basel. Nach dem sechsten WM-Wettbewerb in Krakau/Polen war die Hinrunde im März bereits abgeschlossen. Aktuell führt der amtierende Weltmeister aus Spanien, Maikel Melero, die Gesamtwertung mit maximaler Punktausbeute von 120 Zählern vor Remi Bizouard (FRA/100 Punkte) an. Auf dritter Position folgt der Franzose David Rinaldo mit 86 Punkten.
Die "Rückrunde" beginnt für die Extremsportler am 30. September bei der NIGHT of the JUMPs im spanischen Jerez. Zwei Wochen später werden bereits die nächsten WM-Punkte vergeben. Nach einer einjährigen Pause geht es wieder nach Riga. In der Arena Riga steigt am 15. Oktober 2016 der große Preis von Lettland.
Bereits zum dritten Mal reisen die WM-Fahrer nach Shenzhen. Im dortigen Fußballstadion finden am 29./30. Oktober 2016 die beiden chinesischen Grand Prix Wettbewerbe statt.
Vom Tourstopp in Asien geht es für die Freestyle Motocross Sportler der NIGHT of the JUMPs wieder zurück nach Europa. So werden am 19. November 2016 die nächsten Punkte der FIM Freestyle MX World Championship in Gdansk/Polen vergeben.
Am 3. Dezember steht dann das große Finale der NIGHT of the JUMPs 2016 an. Wie in den Vorjahren wird der FIM Freestyle MX World Champion in der bulgarischen Hauptstadt Sofia gekrönt. Der Kampf um die FMX Weltmeisterschaft läuft auf einen Zweikampf zwischen dem zweifachen World Champion Maikel Melero und dem dreimaligen Rekord-Weltmeister Remi Bizouard hinaus. 20 Punkte liegen aktuell zwischen den Beiden. Bei den noch ausstehenden sechs Wettbewerben sind noch insgesamt 120 Punkte zu vergeben. Somit hat Bizouard noch alle Möglichkeiten, den dritten Titel des kleinen Spaniers zu verhindern und sich den vierten WM-Titel zu holen.
Rückrunde NIGHT of the JUMPs Serie 2016:
FIM Freestyle MX World Championship
30.09.2016 NIGHT of the JUMPs Jerez/Spanien Runde 7
15.10.2016 NIGHT of the JUMPs Riga/Lettland Runde 8
29.10.2016 NIGHT of the JUMPs Shenzhen/China Runde 9
30.10.2016 NIGHT of the JUMPs Shenzhen/China Runde 10
19.11.2016 NIGHT of the JUMPs Gdansk/Polen Runde 11
03.12.2016 NIGHT of the JUMPs Sofia/Bulgarien Runde 12
FIM Freestyle MX World Championship
Ranking (after 6th contest)
1. Maikel Melero ESP RFME Yamaha 120 Points
2. Remi Bizouard FRA FFM Kawasaki 100 Points
3. David Rinaldo FRA FFM Yamaha 86 Points
4. Rob Adelberg AUS MA Yamaha 86 Points
5. Petr Pilat CZE ACCR KTM 67 Points
6. Luc Ackermann GER DMSB Husqvarna 55 Points
7. Jose Miralles ESP RFME KTM 49 Points
8. Pat Bowden AUS MA Yamaha 45 Points
9. Libor Podmol CZE ACCR Yamaha 36 Points
10. Brice Izzo FRA FFM Yamaha 35 Points
11. Hannes Ackermann GER DMSB KTM 29 Points
12. Marc Pinyol ESP RFME Yamaha 16 Points
13. Thomas Wirnsberger AUT OSK Suzuki 11 Points
Mehr Infos, Bilder und Videos unter www.NIGHToftheJUMPs.com.
Ähnliche Artikel
Die extremste Freestyle Motocross Serie mit der Premiere des Buggy-Flips in der ...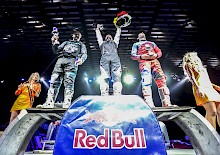 Maikel Melero gewinnt NIGHT of the JUMPs WM-Auftakt knapp vor Luc Ackermann in ...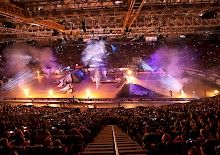 Die weltbesten Freestyle Motocross Sportler kommen wieder in die ...