NIGHT OF THE JUMPS´ IN SHENZHEN/CHINA
Rinaldo schlägt zurück und baut seine WM-Führung aus!
Am Samstag endete das große NIGHT of the JUMPs Wochenende in China mit der 10. Runde der FIM Freestyle MX World Championship. Wie am Vortag gingen die 10 WM-Kontrahenten aus fünf Nationen in der Shenzhen Sport Arena an den Start.
Einige der Fahrer veränderten ihren Run im Vergleich zum Vortag und hofften so ins Finale einzuziehen. Das gelang Brice Izzo, der eine neue Barhop to Superflip Kombination zeigte. Auch Petr Pilat kam mit umgestellten Lauf in die Endrunde. Libor Podmol, Maikel Melero, David Rinaldo und Rob Adelberg komplettierten das Finale.
Hannes Ackermann hatte bei der Volt am Vortag sein Kupplungspedal verbogen und musste so im zweiten Gang seinen Run absolvieren. Dadurch konnte er nicht die Volt zeigen und verpasste als Siebenter die Endrunde. Noch schlimmer erwischte es den Vortagsfinalisten Dany Torres. Der Spanier patzte gleich bei zwei Tricks und wurde nur Zehnter. Dafür setzte er beim Lifeproof Best Whip alles auf eine Karte und gewann auch am zweiten Tag den Siegerpokal im Sidecontest.
Der Maxxis Highest Air war wie ein Blueprint vom Vortag. Massimo Biaconconcini schlug Jose Miralles mit übersprungenen 9,00 Metern, siegte aber aufgrund der geringeren Fehlversuche.
Das Finale eröffnete Rob Adelberg. Etwas frustriert über das Ergebnis vom gestrigen Grand Prix zeigte er seine Tricks mit voller Extension und behielt die California Roll für den Double up zurück. Damit verbesserte er sich um drei Plätze auf Rank 3. Dies schaffte er aber vor allem, weil Petr Pilat und Brice Izzo sich im Finale nicht mehr steigern konnten.
Nach dem Rückschlag vom Freitag (4. Platz) meldete sich Maikel Melero in der WM zurück. Mit dem Tsunami Flip über die Kicker Rampe, dem Doublegrab Flip und der Melero Roll sprang er auf den zweiten Platz. Diese Attacke konnte David Rinaldo aber abwehren. Nachdem sein Gepäck am Nachmittag eingetroffen war, zeigte er in gewohnter Manier California Roll, Volt sowie Doublegrab Flip und landete im Hot Seat. Davon hätte ihn nur noch Libor Podmol als letzter Fahrer im Finale verdrängen können, der in China leicht favorisiert war. Doch als er nach dem Surfer Tsunami Flip mit dem Vorderrad im Landehügel einschlug, brach das Rahmenheck und er konnte nicht weiterfahren.
Somit holte sich David Rinaldo den Sieg im zweiten China Grand Prix. In der WM-Wertung führt er jetzt mit 12 Punkten (insgesamt 172 P.). Dicht dahinter folgt der amtierende World Champion Maikel Melero mit 160 Zählern. Mit dem Patzer im Finale hat sich Libor Podmol aus dem WM-Rennen verabschiedet. Einzig Rob Adelberg könnte als Dritter der Gesamtwertung Rinaldo und Melero noch abfangen.
Am 7. November werden die nächsten WM-Punkte vergeben. Dann gehen die FMX Sportler in Caraguatatuba (bei Sao Paulo) in Brasilien an den Start.
NIGHT of the JUMPs/FIM Freestyle MX World Championship
Shenzhen, 17. Oktober 2015 – Runde 10
Results NIGHT of the JUMPs – Final
1. David Rinaldo FRA FFM Yamaha 408 Points
2. Maikel Melero ESP RFME KTM 399 Points
3. Rob Adelberg AUS AMA Yamaha 396 Points
4. Brice Izzo FRA FFM Yamaha 377 Points
5. Petr Pilat CZE ACCR KTM 354 Points
6. Libor Podmol CZE ACCR Yamaha 20 Points
Results Qualifikation
1. Libor Podmol CZE ACCR Yamaha 364 Points
2. Maikel Melero ESP RFME KTM 361 Points
3. David Rinaldo FRA FFM Yamaha 349 Points
4. Petr Pilat CZE ACCR KTM 344 Points
5. Brice Izzo FRA FFM Yamaha 342 Points
6. Rob Adelberg AUS AMA Yamaha 341 Points
7. Hannes Ackermann GER DMSB KTM 318 Points
8. Luc Ackermann GER DMSB Husqvarna 303 Points
9. Jose Miralles ESP RFME KTM 302 Points
10. Dany Torres ESP RFME KTM 299 Points
Lifeproof Best Whip Contest
1. Dany Torres ESP RFME KTM
2. Maikel Melero ESP RFME KTM

Maxxis Highest-Air
1. Massimo Bianconcini ITA PZM KTM 9,00 Meter
2. Jose Miralles ESP RFME KTM 9,00 Meter
3. Luc Ackermann GER DMSB Husqvarna 8,50 Meter
FIM Freestyle MX World Championship Ranking (after 10th contest)
1. David Rinaldo FRA FFM Yamaha 172 Points
2. Maikel Melero ESP RFME Yamaha 160 Points
3. Rob Adelberg AUS AMA Yamaha 148 Points
4. Libor Podmol CZE ACCR Yamaha 138 Points
5. Remi Bizouard FRA FFM Kawasaki 90 Points
6. Jose Miralles ESP RFME KTM 85 Points
7. Hannes Ackermann GER DMSB KTM 82 Points
8. Brice Izzo FRA FFM Yamaha 75 Points
9. James Carter USA AMA Honda 52 Points
10. Luc Ackermann GER DMSB Husqvarna 47 Points
11. Petr Pilat CZE ACCR KTM 32 Points
12. Dany Torres ESP RFME Yamaha 30 Points
13. Filip Podmol CZE ACCR Yamaha 23 Points
14. Taka Higashino JAP Yamaha 16 Points
15. Davide Rossi ITA PZM KTM 14 Points
16. Kai Haase GER DMSB Suzuki 12 Points
Mehr Infos www.NIGHToftheJUMPs.com
Ähnliche Artikel
Doppelsieg von Melero in Berlin – Luc Ackermann sensationell auf Platz 4
Der spektakuläre Start in die Freestyle Motocross Europameisterschaft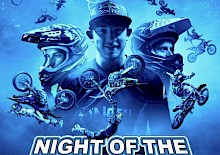 NIGHT of the JUMPs – FREESTYLE MX WORLD TOUR CHAMPIONSHIP