N.O.T.J. VIDEO - LINZ 2015
Hier kommt ein Zusammenschnitt der NIGHT OF THE JUMPS 2015 in Linz!
Ein gemischtes Wochenende mit einem starken Sieg von Petr Pilat! Wird Petr in den FIM Freestyle MX World Championship 2015 einsteigen? Mit seiner Leistung aus Linz ist er auf jeden Fall einer, den man im Auge behalten sollte! Hier alle NIGHT OF THE JUMPS Highlights der 1. &2. Runde des European Championship in Linz / Österreich.
Ähnliche Artikel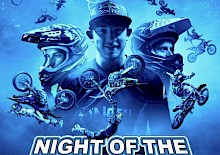 NIGHT of the JUMPs – FREESTYLE MX WORLD TOUR CHAMPIONSHIP
Der spektakuläre Start in die Freestyle Motocross Europameisterschaft
Rinaldo schlägt zurück und baut seine WM-Führung aus