ROMAIN FEBVRE ÜBER DEN MXGP 2016
Der amtierende MXGP Champion Romain Febvre spricht in diesem Video ganz offen über den Druck und auch die Ängste, welche auf seinen jungen Schultern in der neuen GP Sasion lasten. Er ist fest entschlossen alles dran zu setzten seinen Titel zu verteidigen und spricht sehr positiv über seine Pläne und den ersten GP am Samstag.
Zusätzlich zu dem tollen Video haben wir noch ein umfassendes, schriftliches Statement von Romain:

"I can remember taking the red plate in Germany [round ten] and it was the midpoint of the season…then I felt that it could be my year," he reflects. "I had to stay focused because I knew I had the speed and the confidence. In MXGP it is way-easier to be focused on what you want when you know you have the package and speed to make it happen."
"For sure I learned a lot and the two key factors to win a championship is to keep consistent and win a few races," he divulges. "My strategy after a few GPs was that if I felt I could win then I would. I was looking at my feeling on the track and the bike. I think you have to be like this. There were some weekends where I was not the best – like Lommel [Belgium] where I pushed and made mistakes – where I had to tell myself 'take third'. When you are racing it is difficult to tell yourself to accept third, fifth, eighth or whatever but it is what I could do last year and I hope I can do it again this year."
Febvre has had to grow and mature quickly. He now has to assume a new position as pack leader and again set the reference at the front of the world. Yamaha Team Owner Michele Rinaldi has said that the Frenchman reminds him of an 'old school' racer: an athlete with a simplified and dedicated approach, able to displace any form of distraction.
"I try to be a perfectionist – too much - and even when it is perhaps not the best time to expect perfection I still want it," Febvre muses when asked about his approach to his profession. "I don't complain about the bike because I know it is good and I feel comfortable but I am very critical of myself. It is not easy and it is something that can force a mistake in a race or the championship story. I need to control myself better."
Febvre might be transparent with his self-analysis but to the many MXGP viewers and followers that watched him in 2015 there was an unbreakable solidity in the '461+Yamaha' package. Such was his form at the end of the last Grand Prix term that Febvre cannot be discounted from further title contention when Qatar starts the frantic position-swapping and point-grabbing once more. "Like I have told myself many times 'there can be only one world champion every year…and a rider might be lucky to get ten good years out of a career'. I did it once and I hope to do it again," he reflects. "My goal is to be totally focussed on the championship and have some stories to tell."
The gate tumbles on 2016 MXGP Saturday evening in Qatar with practice and qualification heats taking place on Friday. From the depths of the desert the series then clocks-up the airmiles with Grands Prix in Thailand, Argentina, Mexico and Holland in the first month and then across the breadth of Europe until the fascinating double-header climax in the United States in September.
Ähnliche Artikel
Honda und 24MX starten in 2016 mit neuem MXGP Team
Yamaha stellt die neue MXGP Waffe für den amtierenden MXGP Weltmeister Romain ...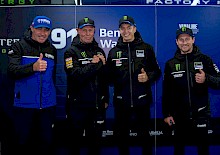 Ben Watson wird 2021 Mitglied des Monster Energy Yamaha Factory MXGP-Teams. ...