Josh Sheehan is one of only four people who have ever landed a double back flip on a dirt bike. He is the only person in the world currently doing the trick. Josh is about to fly to my house to attempt to land a triple back flip.. So I thought I would give him a send off by doing a double flip with him at last nights Nitro Circus show.. #rmz450power #whydidntIridemy2stroke #im2oldforthis #ranoutoftalent #imOK! EVS Sports saved my life.. Thanks James Foster for filming!

Posted by Travis Pastrana on Sonntag, 12. April 2015
CLIP: SYNCHRONIZED MOTO DOUBLE-BACKFLIP!
Im Rahmen der NITRO CIRCUS Show in Australien haben Travis Pastrana und Josh Sheehan am vergangenen Samstag einen Synchronized Moto Double-Backflip Gemacht!


Für Travis Pastrana war es der erste Double Backflip Versuch seit vier Jahren, allerdings hat er dabei überrotiert und ist gestürzt. Travis trug aber keine Verletzung davon und hat sich im Anschluss direkt ein BMX Bike genommen und ist seinen ersten BMX Front Flip von der Gigenta Ramp gesprungen! Das nenne wir mal Commitment;-)

NITRO CIRCUS Europa Tour Daten:
www.nitrocircus.com
www.facebook.com/NitroCircus.
Ähnliche Artikel
Als erster Mensch versucht Josh Sheehan einen dreifachen Backflip mit einem ...
Weltpremiere! Josh Sheehan versucht sich am gefährlichsten und gleichzeitig ...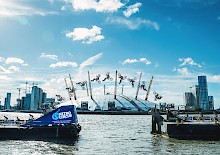 Travis Pastrana hat es tatsächlich gepackt und ist diese Woche von Boot zu ...