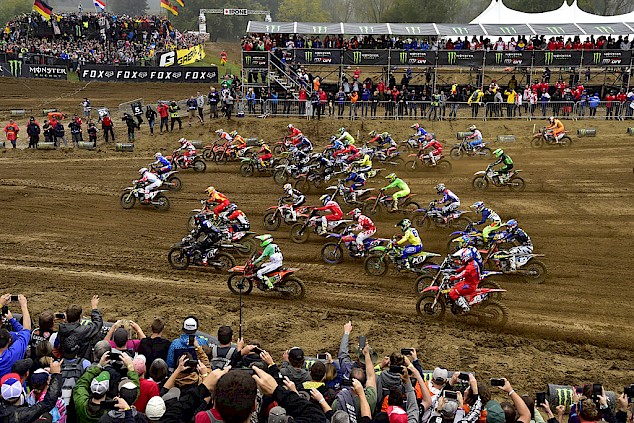 2018 MONSTER ENERGY FIM MOTOCROSS OF NATIONS: ITALIEN DISQUALIFIZIERT
Während der Monster Energy FIM Motocross of Nations in Red Bud (USA) am 6. und 7. Oktober 2018 wurde das Benzin der folgende Bikes getestet:
2018-1 FIM Technical Rules Motocross (Art.63.04 and 63.05)
Mr BARCIA #27 (United States) 

Mr VAN HOREBEEK #12 (Belgium) 

Mr CERVELLIN #20 (Italy) 

Mr TOMAC #25 (United States) 

Mr TIXIER #3 (France) 

Mr PLESSINGER #26 (United States) 

Mr LAWRENCE #17 (Australia) 

Mr CAIROLI #19 (Italy) 

Das Benzin von Nr. 20 Michele CERVELLIN entsprach nicht den Richtlinien. Daher wir das gesamte Team für die gesamte Veranstaltung disqualifiziert und belegt nun den letzten Platz.
Das offizielle verbesserte Resultat findet ihr hier: http://docs.mxgp.com/tvinfo/2018_210.pdf
Ähnliche Artikel
Kurz nach dem diesjährigen MXON in Ernee hat sich die Motocross Grand Prix ...
70% Rabatt für das komplette Saison Packet. Für 39 € schau dir die ...
… statt nur dabei! So haben wir den MXGP erlebt: geile Fans, Pechvogel Max ...