GET INTO THE RHYTHM: RED BULL STRAIGHT RHYTHM 2017 LIVE
Einer der coolsten Veranstaltungen. Action, Show und Superstars. Seit Live dabei !!
Ähnliche Artikel
Heute um 23:30 live auf Red Bull TV
Nicht viele Worte, sondern Bilder und Video: das war das Red Bull Straight ...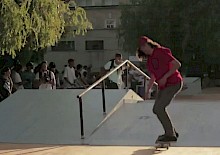 For it´s 12th year in a row the streets of Vigo were crowed with freestyle ...