Masters of Dirt: Vienna by Monster Energy
Masters of Dirt bedeutet Action pur, egal ob Motocross, BMX oder Mountainbike, die Fahrer geben auf jedem fahrbaren Untersatz Vollgas. Dieses Wochenende fand in Wien das Kick Off Event statt. Es werden noch viele weitere atemberaubende Shows im Laufe des Jahres folgen ...
Ähnliche Artikel
Mit insgesamt 4 nahezu ausverkauften Shows brachte Masters of Dirt die knapp ...
Masters of Dirt in der Wiener Stadthalle - nur noch wenige Tage!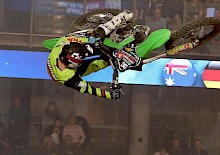 Der Parcours bei den Red Bull Dirt Diggers wird etwas ganz Besonderes sein, ...